Largest building in the world opens in China – complete with indoor seaside
Chengdu's New Century Global Centre has its own beach resort, cinemas, shops – and a replica Mediterranean village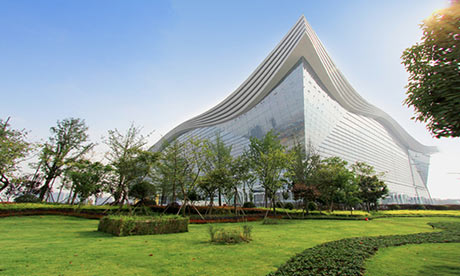 Beneath smoggy clouds in the Chinese mega-city of Chengdu, waves lap against sandy shores and a salty breeze blows across the beach. 6,000 holidaymakers look out on a glowing sunset, dining on platters of "the rarest oceanic fish species", while a stage rises from the water, ready for the evening's multimedia music spectacular. China's fourth largest city may be 620 miles from the coast, but that hasn't stopped it having its own seaside – newly opened inside the biggest building in the world.
A 100m tall cliff-face of blue mirrored glass, stretching 500m along a triumphal plaza, the New Century Global Centre houses an entire seaside resort, along with a 14-screen Imax cinema, Olympic-sized ice rink, two five-star hotels and its own Mediterranean shopping village – all wrapped with a vast ribbon of offices. Sprawling for 1.7m square metres, it could fit 20 Sydney Opera Houses beneath its glass roof. It is declared by its creators to be "a landmark which commands the world and is looked upon by the world with respect," a pleasure dome that Kubla Khan could only dream of.
Positioned at the heart of the city's Tianfu district, a new hub for finance, IT and biochemical industries, the building squats like an overfed prize fowl, teetering out in all directions and looming above a neighbouring art centre by Zaha Hadid – a dwarf in comparison, at 140,000 square metres. Its design, say the developers, is "themed with a comprehensive and profound oceanic culture and inspired by the design concept of sailing seagulls and undulating waves".
'A landmark which commands the world and is looked upon by the world with respect'. On entering the echoing 18-storey atrium, lined with a stratified cream cake of hotel balconies and zig-zagging escalators, visitors are blasted with artificial sea breeze, designed to "make one intoxicated, as if he were enjoying himself in the fabulous heaven". Moving past aquarium walls and through a strange hybrid townscape of Polynesian huts crossed with a middle eastern kasbah, tourists arrive at the 400m-long coastline, where the largest artificial waves in the world break in front of the longest LED screen in the world – on which "the alternating morning cloud and twilight afterglow extend the horizon limitlessly in the temporal and spatial directions".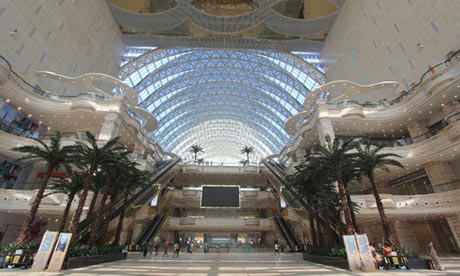 Inside the New Century Global Centre, Chengdu, China For one of the most polluted cities in China, the sun shines through the glass barrel-vaulted roof in a remarkably blue sky. "We have borrowed a Japanese technique," guide Liu Xun told the Sydney Morning Herald. "There is an artificial sun that shines 24 hours a day and allows for a comfortable temperature."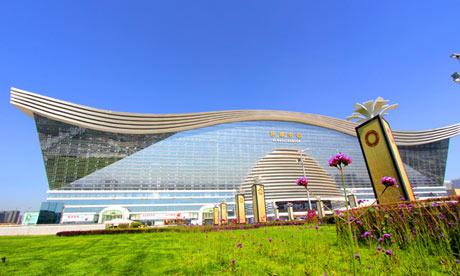 New Century Global Centre, Chengdu, China Photograph: Entertainment and Travel Group With offices that are both "comfortable and pompous", entertainment facilities that offer "the most exquisite and extravagant audiovisual pleasures", 1,000 deluxe hotel suites that all enjoy a sea view, and one of the largest shopping malls in China, citizens of the New Century Global Centre are given no reason to leave. But nor might they be able to escape their work: "It is a world class modern city of idyllic beauty," trumpets the promotional video, "where recreation has become the core value of modern business concepts and business will become a way of life."